Posted In:
Sports
by The Administrator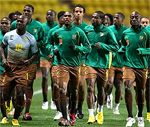 The coach of the Indomitable Lions of Cameroon, Paul Le Guen has officially put up a list of 22 players to confront Italy on the 3rd of March in Monaco, France. This is might be of great interest to Cameroonians as Rigobert Song and Geremi Njitap were not called up. Worthy of note is the return of Sebastien Basong who missed out during the recent CAN 2010 expedition, Assou Ekotto, Joel Matip of Shalke 04 who has been a subject of controversy, and two local players from Astre de Douala: Mabouka Massoussi and Abouna Ndzana. What is amazing in this squad is the fact that Idrissou Mohamadou is retained despite his dismal performance during the Angola expedition.
What's your opinion?
Here is the List of the 22 players selected:
Idriss Carlos Kameni ( Espagnyol Barcelone, Espagne)
Souleymanou Hamidou ( Kayserispor, Turquie)
Achille Webo ( Majorque, Espagne)
Samuel Eto'o ( Inter Milan, Italie)
Alexandre Song ( Arsenal, Angleterre)
Nicolas Nkoulou ( Monaco, France)
Georges Mandjeck (Kaiserslautern, Allemagne)
Achille Emana ( Real Betis, Espagne)
Landry Nguemo ( Celtic Glasgow)
Henri Bedimo Nsamè ( Lens , France)
Somen A Tchoyi ( Red Bulls Salzburg, Autriche)
Enoh Eyong Tarkang (Ajax, Pays Bas)
Jean II Makoun ( Lyon, France)
Stéphane Mbia (Olympique Marseille, France)
Idrissou Mohamadou ( SC Freiburg, Allemagne
Benoit Assou Ekotto( Tottenham, Angleterre)
Sebastien Bassong ( Tottenham, Angleterre)
Mabouka Massoussi (Astres FC de Douala)
Abouna Ndzana (Astres FC de Douala)
Nounkeu Dany (Toulouse, France)
Joël Matip (FC Schalke 04)
Kouemaha Dorge Rostand ( FC Bruges)
Here is the list of the 11 players-squad to start the game against Italy
Souleymanou
Mbia – Nkoulou – Bassong – Assou Ekotto
Alexandre Song – Enoh – Mandjeck
Emana – Eto'o – Kouemaha
Related Posts